A good Catholic Bible study program should help you deepen your faith.
This section's Scripture study guides were created especially for adults who are beginning to read the Bible seriously.
If you want to...
Learn more about Christ
Deepen your faith
Pray with Scripture
Understand how Catholic Christianity is based in Scripture
Learn to live your faith in your daily life
...then you've found the right place!
The resources you'll find here
There are three kinds of things here:
Background information about the Bible
How-to guides that teach you skills
Actual Catholic Bible study guides
Background information
A Catholic guide to understanding the Bible provides an essential foundation for reading the Bible. It will answer a lot of questions you probably have about how Catholics view Scripture.
The article about the Kingdom of God is important background about a concept that was at the core of Jesus' message and life. This is essential to understanding the Gospel, as well as the Bible as a whole.
How-to guides
The article about how to read the Bible is probably the best place to start. It teaches a simple method that you can use to master essential Catholic Scripture study skills.
The line between Scripture study and prayer is fuzzy. Good Bible study should really lead you into prayer, and fruitful prayer will always teach you more about Christ.
So although this section focuses on Catholic Bible study, you should also see the section on how to pray, especially the article about Christian meditation (mental prayer). The skills there are also very useful for Bible study.
Catholic Bible study guides
The Bible contains a wealth of details about the ways and life of Christ — details that too many people don't see! Sharpen your "eyes of faith" and learn to see them.
The article Learn About Jesus in Scripture is an essential guide for anyone serious about Scripture study. Deepen your knowledge of Christ while you learn to read the Bible effectively.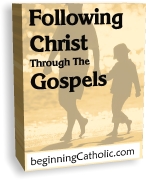 The eBook Following Christ Through The Gospels is also a terrific resource for both Catholic Bible study of the Gospels and learning to pray with Scripture.
This classic by renowned priest Father Bernard Basset is a guided, prayerful tour of more than 200 key Gospel passages.
Fr. Basset wrote this book to help people meet Christ in the Bible, gain a deep understanding of the Gospels, and develop a solid prayer life. This is available through the Catholic Spiritual Treasures program.
The free eBook How To Read The Parables will help you unlock the many parables and similes Jesus used to describe the "kingdom of heaven"—the concept at the very heart of his preaching.
And speaking of which...
...there's another free eBook about Understanding the Kingdom of God. This is a great guide for gaining a solid understanding of this concept, which is essential for every Christian's faith.
---
Also check our home page for more articles about the Catholic faith!