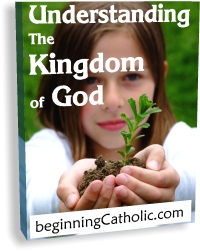 Proclaiming the kingdom of God was the starting point and the center of Jesus' whole public life.
Christ tells us plainly in the Gospels that he was sent to announce this kingdom, and to unite all the faithful in it. Every Christian must gain a solid understanding of this concept of the "kingdom of God."
That is the purpose of this brief eBook.
Written by renowned Scripture scholar Father Leopold Fonck, S.J., Understanding the Kingdom of God is a very accessible discussion of this important concept. (Fr. Fonck's work is also available in our How To Read The Parables.)
Many dimensions of the concept
The term "kingdom of God" had a specific meaning in Jewish thought at the time of Jesus. Understanding the Kingdom of God helps us discover its many dimensions by using a number sources:
Old Testament usage of this term and its concept
Other ancient Jewish religious writings
Historical writings of the time immediately before or after the birth of Christ
New Testament evidence of the Jewish understanding of the kingdom of God.
Fr. Fonck uses these sources to give us a clear picture of the ancient Jewish idea of the kingdom of God.
He describes several essential characteristics of this kingdom—and outlines how the people of ancient Israel had distorted its meaning.
Christ proclaims the true Kingdom
Jesus spoke so often and so forcefully about his Kingdom because he had to correct those common distortions taught by the Jewish leaders at the time.
Understanding the Kingdom of God details the opposition between Christ's proclamation and the false teachings of the time.
This eBook also lists the parables of Christ, organized into three categories of parables that describe:
The development of the kingdom, its nature, and its working;
The members of the kingdom of heaven and their obligations;
Christ the Head of the kingdom of God and his position among the members.
This eBook is a perfect companion to How To Read The Parables, as Christ himself mainly used the parables to describe the Kingdom of God.
Written by a famous Scripture scholar
Fr. Fonck was a distinguished Catholic Biblical scholar at the beginning of the 20th Century.
Pope Pius X appointed Fr. Fonck as the first President and member of the Pontifical Biblical Institute, and also named him as a consultor of the Pontifical Biblical Commission. Both institutions were chartered to provide outstanding and faithful Biblical scholarship in service to the Popes. Fr. Fonck also contributed to the Catholic Encyclopedia numerous articles on Scripture.
Fr. Fonck's background and commitment to serving to the Popes means that this is a reliable guide to this important aspect of Scripture. It provides an excellent, readable introduction to the Kingdom of God.
A
free

downloadable eBook

This eBook is available as a free download!

Click here for the freebie downloads page for details about downloading this great eBook!
---
Check our home page for more articles about the Catholic faith!