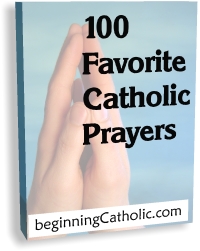 100 Favorite Catholic Prayers is a wonderful free collection of traditional Catholic prayers.
This eBook is a collection that you can really use. It contains morning & night prayers, prayers for use throughout the day, acts of contrition, faith, hope, & charity, and more.
Long prayers, short aspirations, special prayers of the Saints—it's all here!
Father Lawrence Lovasik, popular author of dozens of books, originally compiled these traditional Catholic prayers for a book that's now out of print. I've gathered 100 of the most well-known prayers for this special beginningCatholic.com eBook—especially the prayers that you can use every day.
A free gift to you!
This eBook is available as a free download!
Click here for the freebie downloads page for details about downloading this great eBook!
---
Check our home page for more articles about the Catholic faith!