Free Downloads From This Website
Here is a list of all the free downloads available on beginningCatholic.com. The download page itself is a "members only" area. If you are a member, click this link to log in and access the freebie downloads. If you are not a member yet... ...you, too, can become one! It's free—just subscribe to my Ezine, "Walk By Faith". Once you're signed up, I'll send you an email with the link to the back issues.
The password to access the downloads page is in each issue of the Ezine.
So just click this link to sign up. Once you get the password, you can come back here and click this link to log in and access all the freebies! Right now, I have these outstanding eBooks available for free downloading—and more freebies are coming soon! If you're new to eBooks or would like to know why we chose this publishing format, click here. Here are our free gifts to you:
---
100 Favorite Catholic Prayers is a wonderful free eBook with a great collection of traditional Catholic prayers. You can really use this collection of prayers. It contains morning & night prayers, prayers for use throughout the day, acts of contrition, faith, hope, & charity, and more.
---
How To Read The Parables gives you the key to unlocking Christ's parables in the Gospels. Jesus used many parables and similes to describe the concept at the very heart of his preaching—the "kingdom of God." Written by renowned Scripture scholar Father Leopold Fonck, S.J., How To Read The Parables describes what a parable is and how it works, examines Jesus' own explanations of various parables, and teaches you the essential principles for interpreting them.
---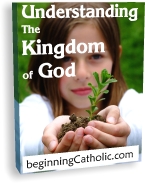 Understanding the Kingdom of God is an excellent guide to the important concept of the "Kingdom of God". Proclaiming the Kingdom of God was the center of Jesus' whole public life. He tells us plainly in the Gospels that he was sent to announce, establish, and unite all the faithful in this new kingdom. Gaining a solid understanding of this concept is essential for every Christian's faith. The material in this eBook was also written by renowned Scripture scholar Father Leopold Fonck, S.J., author of our How To Read The Parables eBook.
---
Click here to return to the beginningCatholic.com home page.